Bampton and District Local History Society
Burnbanks project
The following are a selection of news items about the project.
Email "web at bampton-history.org.uk" (Chris Cant) if you find any more mentions of us in the press or on the web - thanks.
---
Burnbanks Opening and Plaque unveiling report
---
The Burnbanks Project - Exhibition of Findings - Manchester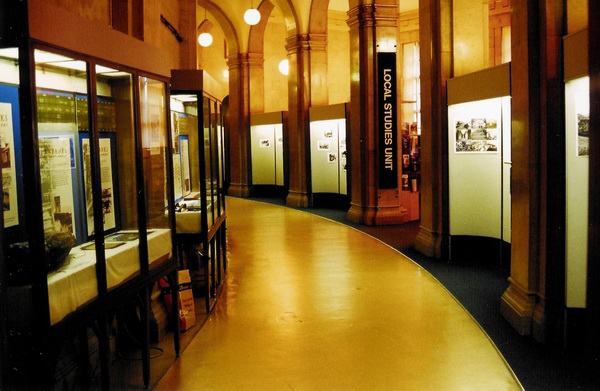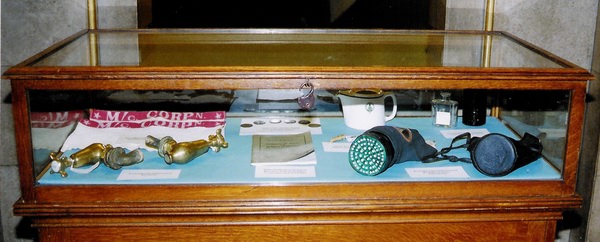 ---
"A Lad in Burnbanks" panto - a sell-out success
More photos now online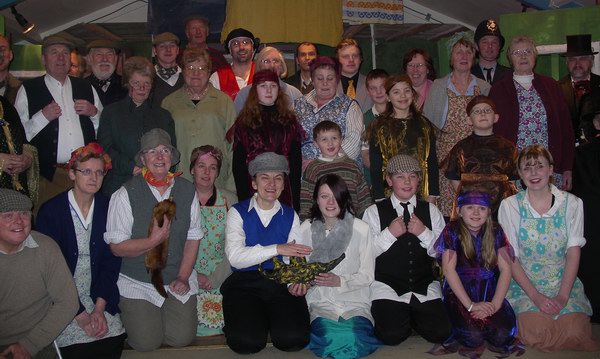 ---
The Burnbanks Project - Exhibition of Findings - Kendal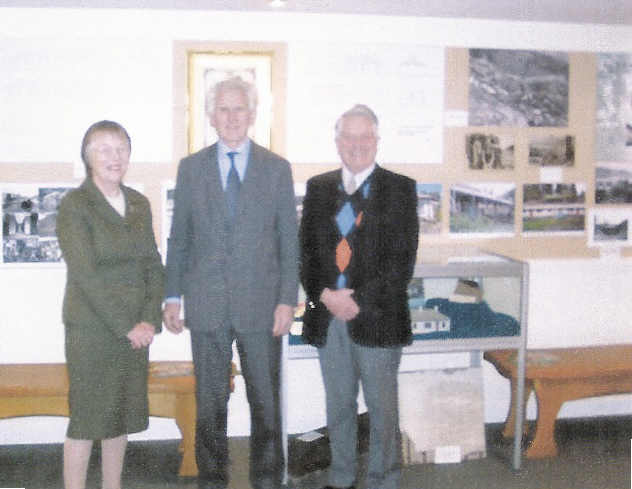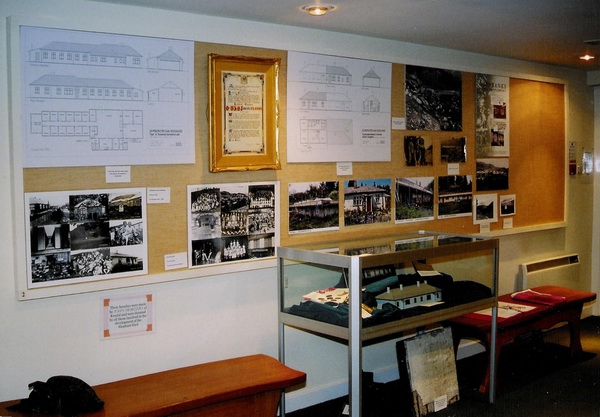 ---
The Burnbanks Project - Exhibition of Findings - Bampton Church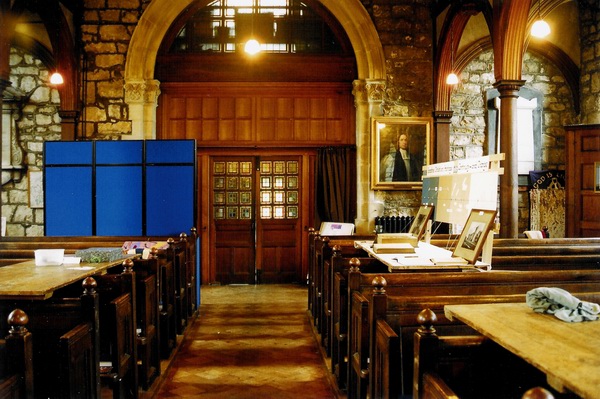 ---
The Burnbanks Project - Exhibition of Findings - Bampton, 12 November 2005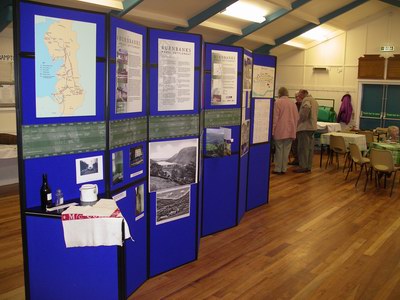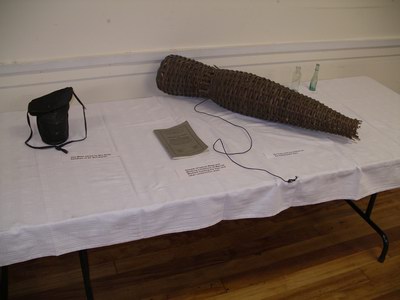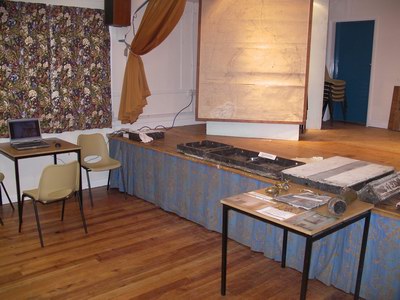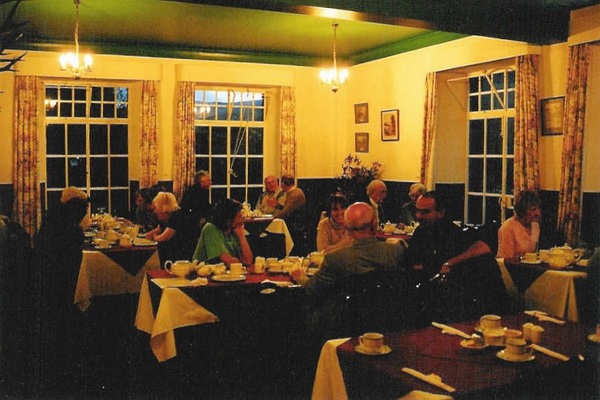 ---
Bampton Parish Newsletter: August 2005
News from the Burnbanks Project
This has been a most exciting project and in the next few months the results will be shown for everyone to see. We have submitted our design for a commemorative plaque to the Lake District National Park for planning permission It is intended that this will be a permanent feature on the new 'village green' at Burnbanks.
Some dates for your diary:
Panto 'A Lad in Burnbanks' November 25/26 2005
Exhibition at Bampton November 12 2005
Exhibition at Penrith Museum December 2005-Jan 2006
Exhibition at Kendal Library 19th Jan-2 Feb 2006
Exhibition Manchester Central Library 6 Feb-31 March 2006
---
Creating a photo archive workshop, 30 June 2004
Roger Kitchen of Kitchen's Ink ran a training workshop for us and Burneside & District Heritage Group. The workshop suggested a methodology for scanning photos, archiving them to CD, entering them into a database and presenting them on the web with watermarks. A very productive afternoon was had, many questions answered and useful links formed with a neighbouring LHI group.
---
Cumberland and Westmorland Herald, 29 May 2004
Homes for locals rising from the rubble of Burnbanks
A half-page article on the back page of the Penrith newspaper The Herald describes the start of the redevelopment at Burnbanks, including a mention for this project.
---
Bampton Parish Newsletter: June-July 2004
News from the Burnbanks Project 3
After the Open Day held on January 24th, we have been following up many leads from the information and contacts that were made. We have had memories and photographs from as far away as Australia. Douglas and Mairghread MacColl, now in New South Wales and Queensland respectively, have helped identify faces and places of Burnbanks in the 1930s. We are still puzzled by a photo of an eel trap on the Haweswater beck below the stone bridge. Do you know it? When did it disappear?
We have begun a programme of interviews and we are making a photographic record of the demolition now underway at Burnbanks. Already we know a great deal more about how the houses were put together - the current estimate is that over 8 tons of cast iron went into the walls of every pair of semi-detached dwellings.
All this research means that we need more help - typing documents and interviews and keeping records of photographs, doing interviews, searching newspapers and libraries. We will be pleased to hear from you.
Pat Garside
---
Bampton Parish Newsletter: April-May 2004
News from the Burnbanks Project 2
Our major activity over the past two months has been the Open Day for the Burnbanks Project that we held in the Memorial Hall on January's one dry Saturday! We wanted the day to be informal to give as many people as possible the chance to share their memories and the knowledge of the area with one another.
The success of the day owes a great deal to the exhibition of findings to date created by John and Marion Drinkwater, and to the efforts of many others on the day who welcomed people and encouraged them to talk, especially those who had come long distances to participate.
There was a great deal to record, including original photographs, as well as some disputes to settle as people disagreed about their accounts of the same period! As always, good food helped to keep the event warm and friendly, many thanks to everyone who contributed to a successful day.
Pat Garside
---
Cumberland and Westmorland Herald
Coverage of the Burnbanks Open Day in the Penrith newspaper The Herald.
---
Burnbanks Open Day, 24 January 2004. 11am - 3:30pm
Programme:
11.00 am
Exhibition opens
12.00 noon
Recording Memories of Burnbanks
who we would like to interview
how we plan to do it
what will happen to the recordings
1.00 pm
Lunch Refreshments
2.00 pm
Talking Burnbanks: Your chance to -
Tell us what you know
Show us any memorabilia you have
Talk about how you can get involved
3.00 pm
Open Day closes
---
Bampton Parish Newsletter: November-December 2003
News from the Burnbanks Project, Number 1
BURNBANKS THEN AND NOW
Are autumn leaves falling on Burnbanks as we know it for the last time? With redevelopment pending, it could well be. In the circumstances, the Bampton Local History Society's project to record the life of the village from its beginning in 1929 to the present day seems very timely. The project has attracted financial support from the Local Heritage Initiative, which is a Heritage Lottery Scheme administered by the Countryside Agency in partnership with Nationwide Building Society. The official start date for the project was 30 September (meaning that we got our hands on some of the money!) We have been very busy over the last few months setting up the project, publicising it and identifying the sources that will help us tell the rich history of Burnbanks.
The announcement in July that our bid for Local Heritage Initiative funds had been successful, sparked off a series of press reports and interviews on Radio Cumbria and Cumbria FM. The October issue of Cumbria carries an account by a resident who came to Burnbanks in 1929 as a teenager and helped to run one of the first hostels where 13 men, herself and the Eastham family of four all lived. This was a lucky coincidence, but all these accounts generated more contacts, many from people now living far away from Burnbanks. Some still visit the village and others have sent in family photographs and newspaper cuttings.
It's all helping us to picture life at Burnbanks - the building, living, working, playing and organising. For example, we have been given a photo of the renowned P.C. Ostle and his large dog, Tarzan, standing in front of the police house there, complete with constabulary shield. We've heard about the redoubtable Haweswater football team, and about the 'Blondin's' - wire ropes that stretched from one side of the valley to the other. It was not daredevil tightrope walkers that swung across them but loads of cement. Their contents were then tipped out and spread by men using shovels who stood thigh deep in setting concrete.
Now that the project has formally started we have to decide our priorities for the next few months. We have set up an initial steering group to get things underway. Our first priority is to photograph and record what remains at Burnbanks and to interview people who experienced life there - whether as residents or as visitors. We know about the mobile shop and cinema, for example. Do you know the people who ran them? We also know that there was a thriving mother and baby clinic - who was involved with that? Clergy in great variety held services - any memories of them? You might like to talk to people like this and record what they say. Or you might be the very person we should talk to! We've made a little list, but we wouldn't like to miss anyone, so please let us have your names and suggestions.
For those who prefer documentary research, there is a great deal of work to be done in local record offices and in collections held by Manchester Corporation and United Utilities. We will be acquiring a laptop computer, scanner and printer and there will be lots of essential work to be done in entering and retrieving information from the photographic, oral and documentary material.
So, these are very interesting times. By the end of the project in December 2005, we should produce a series of open days, a final exhibition, a leaflet telling the history of Burnbanks and an explanatory panel set up at the site itself. Bampton will be the centre of our activities, though we intend to share our findings with other places including Shap, Penrith and Kendal.
The Burnbanks project offers many possibilities to do all sorts of things. If you would like to help in any way, please get in touch. Give us a ring or email, and we'll certainly be delighted to talk to you.
Patricia Garside 01931 713 294 email: "burnbanks at bampton-history.org.uk"